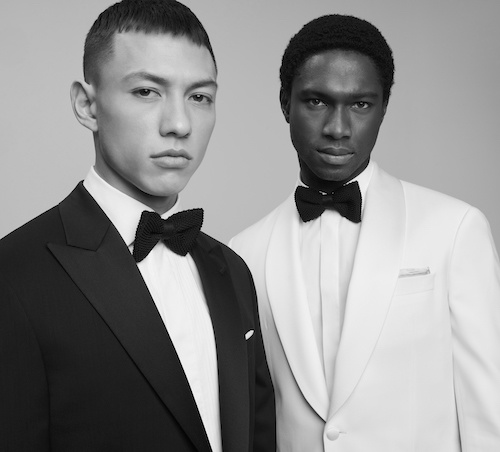 WHAT DO I WEAR TO A WEDDING
Wedding season is in full swing and sometimes its a challenge to know what to wear. Times have certainly changed and knowing the appropriate attire for any event can be confusing. We have put together a few tips that will hopefully ease your mind on how to dress for any upcoming event.
First of all, a wedding is a special event and it deserves effort and an out of the ordinary outfit. Meaning if you wear it everyday it is probably not suitable to wear to a wedding. Usually you will receive an invitation for the event with venue and location and this will give you some clues on how to determine the dress code. For example: If the wedding is in someone's backyard you would definitely not wear a black suit or tuxedo, similarly, if the event is at a hotel, you would not show up in shorts and a polo. There are fine lines for attire and in today's world there is certainly flexibility, however, it is a special occasion and your outfit choice should reflect the event.
FORMAL:  A black tie event definitely calls for a black suit or tuxedo and a white shirt. Black shoes and tie are the standard here and the ladies would likely wear a long gown or formal dress. This event definitely requires you to dress appropriately.
SEMI-FORMAL:  As the title suggests, this style event is not as dressy as formal, however, it still requires you to elevate your look from your everyday style. Suit, dress shirt and tie or a sport coat, dress pant and dress shirt would be fine. Ties are probably recommended, however, it's better to have it with you and take it off later if not required than to go without it. The ladies would probably still wear a dress or pantsuit and heels unless the wedding is outside they may choose a flat dress shoe.
CASUAL: This one can be a little tricky, depending on the venue you will want to elevate your thought on what to wear. It's always better to be a little overdressed than not dressed up enough. Jeans, shorts, tank tops and t-shirts are NOT appropriate. Dress pants or khakis/flat front pants with a collared shirt is suitable. A dress shoe or casual shoe would be ok but don't wear sneakers, tennis shoes, sandals or flip flops. If the wedding is outdoors or on the beach it would likely be a little more laid back, but keep in mind it is still a special event and deserves something you don't wear everyday.
It's important to feel good in what you wear and it should fit you properly. If you are wearing a suit or sport coat make sure the sleeves are not too long. They should hang about 1/4" above you wrist and usually showing about 1/4" of your shirt. Pleats are out again, so if your pants have pleats you might want to upgrade them to something more modern. The hem on your pants should hit the middle of the back of your shoe. Your pant should never be so long that you are stepping on it and bunching up in the front. Your dress shirts should be able to fit two fingers if you are doing the neck to wear a tie. There are several fits so try them on before you buy it and they can always be tapered to fit you properly. Ties are all about the person wearing them, so choose something that suits you. Some people like the convenience of a pre-tied bowtie, however, a tie yourself bowtie gives you a more authentic look. If you are wearing any pant with belt loops its best to wear a belt and coordinate your shoes. It totally completes the outfit.
We are here to help anytime with your wardrobe needs and questions. We have years of experience and take pride in helping people look their best all the time. Dressing to suit your style and personality is important, however, keep in mind sometimes specific events may require you to tame down the pattern or wear a tie. After all, dressing good does make you feel good.